VISION OF CAMP SOLES
To transform one camper at a time by building friendships, developing character, and creating memories.
For more than 65 years, Camp Soles has provided high quality and affordable overnight, family camp, and retreat programs. Located in the Laurel Highlands of southwestern Pennsylvania, our 200+ acre facility is recognized by many as one of the most beautiful camps in North America. Campers have the opportunity to try their hand at a variety of activities including swimming, canoeing, aquatrampoline, paddleboards, Ga-Ga, arts and crafts, pickleball, climbing wall, zipline, fishing, target sports, soccer, hiking, drama, nature study, and much more.
While camp activities are an important part of the summer camp experience, they are actually the tools we use to teach campers how to build meaningful friendships, create lifelong memories, and develop responsibility. The focus is definitely on fun and the personal growth that comes with it!
REGISTRATION
YOU CAN REGISTER ONLINE OR CALL THE CAMP OFFICE AT 412-213-5321 TO REGISTER.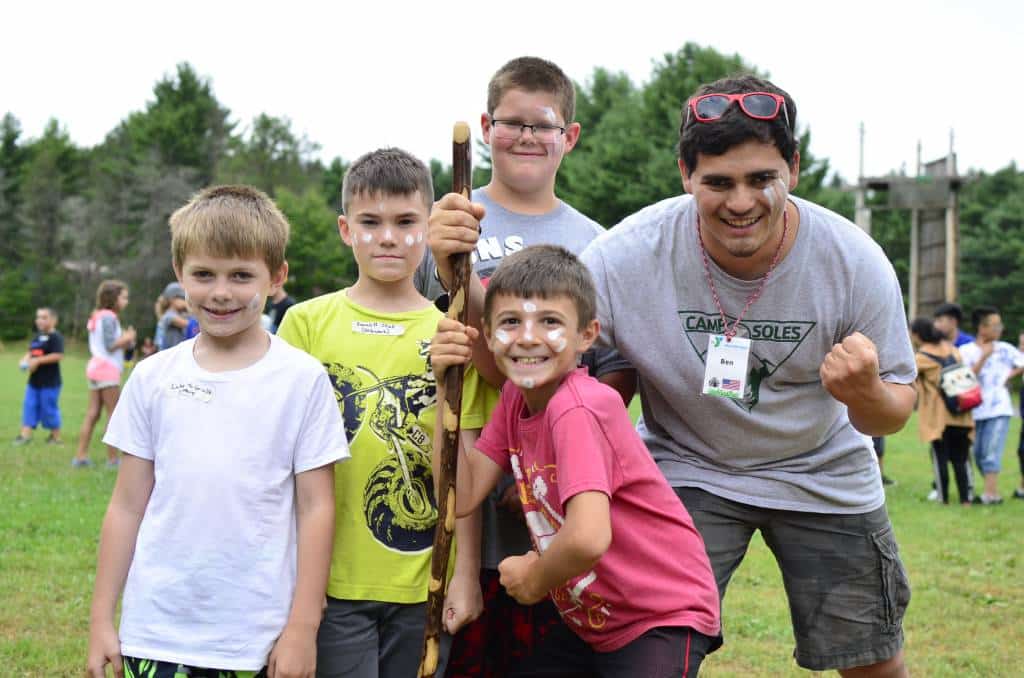 Our programs are intentionally designed:
To instill strong character values

To develop positive and meaningful friendships 

To build life-long skills
We accomplish this vision by:
Cultivating a diverse culture of fun, personal growth, and inclusion 

Hiring exceptional role models

Providing opportunities to improve critical thinking skills 

Offering a wide range of activities for campers to challenge themselves physically and emotionally
CAMP LIFE
DEVELOPING CHARACTER | BUILDING NEW FRIENDSHIPS | CREATING LIFE-LONG MEMORIES
Our program provides campers opportunities for personal development while ensuring/prioritizing physical and emotional safety.
During their time at Soles, campers live in cabins with their fellow campers of the same gender and age. Each cabin houses 7-10 campers and is led by our highly trained and passionate counselors. Our staff to camper ratio of 1:4 ensures campers are receiving the individual attention they need.
ACTIVITIES
Camper schedules are a blend of cabin activities each morning and camper choice activities each afternoon. This balance ensures campers can try their hand at the many activity areas Camp Soles offers while still allowing the campers to make their own choices for activities every day.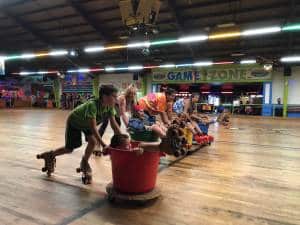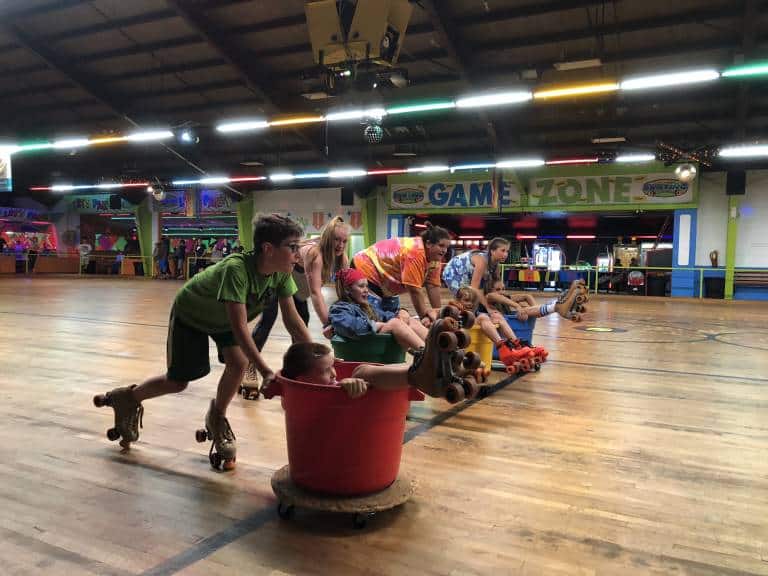 Some of the activities campers can attend are Ga-Ga, Climbing Wall, Archery, Riflery, Soccer, Basketball, Pickleball, Arts & Crafts, Ping-Pong, Fishing and Zip-line to name a few. There's definitely something for everyone at Camp Soles!
Our camp family gathers together each evening for an all camp activity which could include Campfires, camping out under the stars, Cabin Magic, Beach Party, Capture the Flag, Counselor Hunt, Minute to Win It and many more.
FOOD AND MEALS
The Dining hall is where souls and bodies are fed. Good conversation abounds over 3 meals per day and an evening snack. During a stay at camp, campers also have the opportunity to cook dinner over an open fire with their cabin at an overnight.
Campers who have food allergies or special dietary needs are welcome.
Our kitchen staff works hard to ensure all campers' needs are met. Just give us a call so we can learn more about your camper prior to arrival. Vegetarian, vegan and gluten-free options are all available. Food allergies are handled on an individual basis and should be noted on your camper's health form.
PARENT PACKET
Our parent packets include everything you need to know before your campers stay with us! Each packet includes: general camp information and the following forms which need to be returned to the camp office prior to your campers arrival.
SAVE TIME AND COMPLETE ALL FORMS ONLINE WHEN YOU LOG INTO YOUR ACCOUNT 2023 OVERNIGHT PARENT PACKET
All required forms can be completed through our online portal. This is the easiest and most effective way to submit paperwork and make check-in easier for you.
HEALTH AND SAFETY
At Camp Soles, the health and well-being of our campers is our foremost concern. Our Camp Health Officer lives on site in our Health Center. We instill the importance of all safety policies – we require campers and staff to wear helmets and harnesses while climbing and life-jackets while participating in any boating activities. Our High Adventure and Waterfront program areas are staffed at all times by properly trained and certified staff.
OUR GREAT STAFF
Camp Soles understands the imperative need for positive role models in the lives of today's young people. Each summer a group of enthusiastic and kid-loving staff come to Soles to ensure all of our campers have safe and fun summer camp experiences. A well-trained, passionate staff is crucial to an exciting and unforgettable summer camp experience. All staff members undergo an extensive and professional training program together in preparation for our campers' arrival.
SUMMER CAMP PRICE
It is our belief that no child or family shall be turned away due to inability to pay. We realize that different families have different abilities to pay, so we have financial assistance available. Apply for and receive subsidy information before registering for camp.
If you have any questions about our programs, our staff, our health & safety procedures, please feel free to contact the camp office 412-213-5321 or by email at [email protected]
ACA ACCREDITED
CAMP SOLES IS ACA ACCREDITED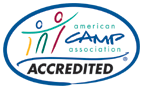 The American Camp Association is the only nationwide accrediting organization for all types and designs of organized camps. ACA standards focus on health, safety, and risk management practices. Accreditation provides a framework to manage resources, offer best practices in policies and procedures, and strive for continuous improvement. Cick here to learn more!
GIVING
Our Sponsor a Camper Campaign raises much-needed financial support for children, teens and families who are unable to afford the full cost of participation in a camp program.
Your donation directly impacts and provides funds to:
Help a child attend Overnight Summer Camp
Help a family attend Family Camp
Support children of military families who attend
Enable a child or teen to participate in recreation and leadership programs
JOIN US IN SUPPORTING OUR COMMUNITY!
Please consider making a tax-deductible contribution to the Sponsor a Soles Camper Campaign today! You can donate online by filling out the form below or
send a check payable to Camp Soles at 134 Camp Soles Lane Rockwood, PA 15557.
If you would like to learn more about the Sponsor a Camper Campaign or find out other ways to get involved, please contact the office at 412-213-5321