FAMILY & FRIENDS CAMP
QUALITY TIME TOGETHER CHANCES TO GROW MEMORIES FOR A LIFETIME
Family & Friends Camp at Camp Soles is reminiscent of a gentler, less hassled time and provides an opportunity to bolster family and friend relationships and relax in a beautiful, natural setting.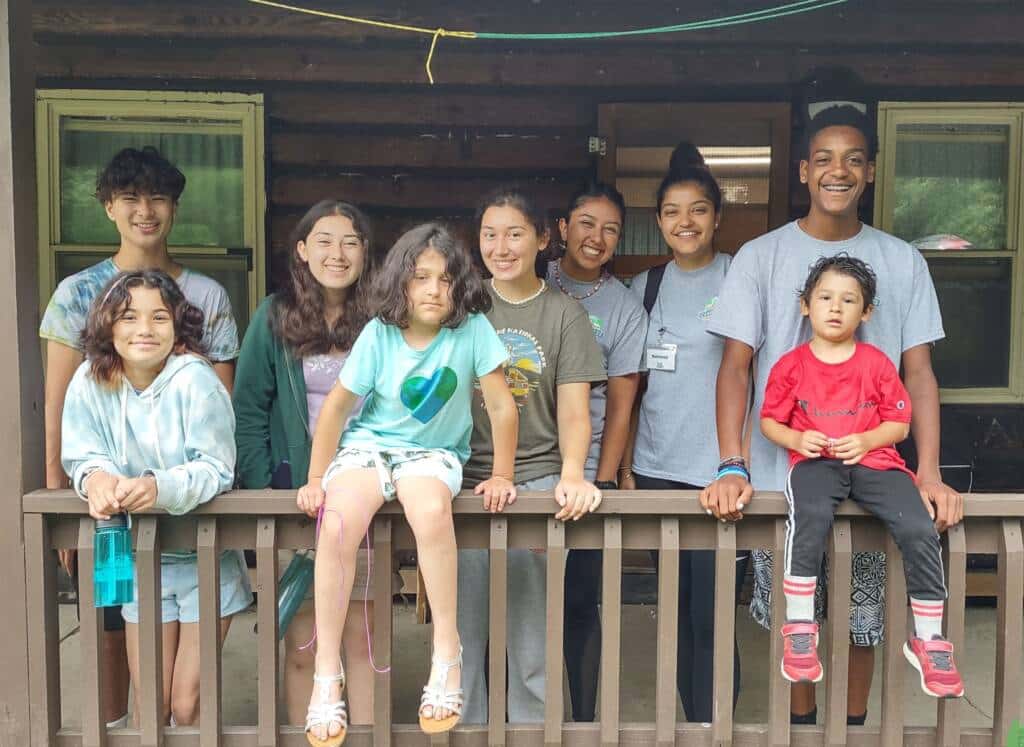 LET US TAKE CARE OF THE DETAILS
We provide all your meals and activities, so your family and friends can experience new adventures, share stories, and enjoy our beautiful camp. We offer activities each morning for kids by age group while adults have time for their own recreation in our many activity centers. Afternoons are filled with time at the waterfront and Camper's Choice activities, during which you can experience camp as a family. Evenings at camp consist of campfires, capture the flag, kickball games, night hikes, ultimate frisbee and more. Some Family & Friends members choose to be on the go at all times, while others get the most pleasure from reading on the Lodge porches and watching the lake activities below.
Activities are facilitated by our skilled camp staff who love the adventure of working with children and parents.
FAMILY & FRIENDS CAMP INFORMATION
Thank you for considering our Family & Friends Camp community! We will be excited to have you here for memory-making, friendship building, and just a chance to be together as a family! Families tell us that being at meals and outdoors together without devices is great for strengthening family bonds. Check out the great Family  & Friends Camp Programs to choose from.
Family & Friends Camp Week – Spend a week in the Laurel Highlands relaxing with the people that matter most. Let our camp staff plan all the activities and meals, you just enjoy. Special times are set up each day for kids' groups with our staff while adults can participate in activities on their own. Waterfront, campfires, fishing and hiking are just a few of the things available to you. Your days are spent the way you choose!
Labor Day Weekend – It's the last blast of the summer. Enjoy the warm days and cool nights by the lake as you take in all camp has to offer. Separate programming for kids and adults is available to suit families, friends and neighbors of all kinds. Enjoy your weekend as we take care of all the details.
ACTIVITIES
Camp Soles has a variety of programs for families and friends to participate in throughout your stay.
Special times are dedicated for adults to engage in activities while kids are participating in their own programming with our staff. Parents are responsible for supervision of kids at all other times. Some activities are restricted by age, size or ability. Some of the activities you can expect during your stay are as follows:
Archery
Low Ropes Team building Course
Rifles and BB Guns
Zipline
Climbing Wall
Bonfires
Hiking
Waterfront (Swimming, Canoeing, Paddle Boarding)
Fishing
Crafts
Recreation Hall
Outdoor Education
Sports (Basketball, Deck Hockey, Pickleball, Softball and other team sports)
Outdoor Living Skills (Fire building, Shelter Building and Survival Skills)
A Guide to Family & Friends Camp
Dear Family & Friends Camper,
Thank you for joining our Family & Friends Camp community! We are excited to have you here for memory making, friendship building, and just a chance to be together as a family! This guide will help prepare your family for an exciting, safe, fun and adventurous experience. If you have any questions or concerns, please feel free to contact us at 412-213-5321 or [email protected]
Arrival and Departure Times
Family & Friends Camp Week (July 2 – July 8): Check-in is Sunday at 4:00 pm (first meal is dinner) and check-out is Saturday at 11:00am (last meal is breakfast)
Labor Day Weekend (September 1 – 4): Check-in is Friday at 6:00 pm (first meal is dinner) and Check-out is on Monday at 10:00 am (last meal is breakfast).
Facility
Camp Soles is a traditional summer camp tucked in the hills of the Laurel Highlands. Our facility consists of private and community spaces. Most Families & Friends groups will be registered to one wing or room within a cabin and may share that cabin with other Family & Friends groups assigned to other wings or rooms. Please be aware that you will also be sharing some community space with another Family & Friends groups. We encourage all campers to take a hand in the cleanliness and overall care of camp during their stay with us. Please note that WIFI is not available and cell phone coverage is minimal at best.
Camp Fees and Forms
All fees and forms are due no later than 30 days prior to your Family & Friends group arrival to camp. The deposit is not refundable and your spot will be reserved only upon receipt of these fees. There are no refunds for late arrivals or early departures. Camp Soles accepts cash, Visa, MasterCard, and checks. Please note there is a $25 charge for all checks returned to Camp Soles. Each family must complete the Family & Friends Health Information Form.
Health and Safety
The health and well-being of all of our campers is very important to us. During Family & Friends camp, we ask families and friends to take care of any daily medication that may be required. Our Camp Health Office is available during your stay — just let a Camp Soles Staff member that you need assistance. The Camp Administration will lead in an emergency situation. Camp staff is trained in First Aid/CPR.
Electronics
A Family & Friends Camp experience promotes group unity, cooperation, and teamwork. In an effort to help achieve this, we ask that families and friends minimize the time spent with cell phones, i-pods, radios, or any other electronics. We suggest you leave electronics and other valuables at home. Camp Soles is not responsible for any damages or lost items.
Pets
Pets are not allowed on camp. Please make other arrangements for care for your pets.
Alcohol
Please see the Camp Director about alcohol consumption. Upon request, adults may responsibly consume alcohol only in cabins or the surrounding areas– firepit and picnic table area next to the cabin. Our friendly atmosphere means that adults should limit alcohol use to times that do not interfere with camp activities and time with their family, friends or neighbors.
Personal Possessions and Lost and Found
Camp Soles is not responsible for your family's or friend's personal possessions. All items left at camp will be kept at the camp office until the end of the camping season. Any items that are not claimed will be donated to a charitable organization. Personal sports equipment is the responsibility of the owner.
Personal Safety
We encourage all campers to wear appropriate safety equipment such as helmets when riding bikes, scooters and skateboards, lifejackets when boating, sturdy shoes when hiking, etc.
Also, don't forget to wear sunscreen and insect repellants when appropriate.
And if you don't know what poison ivy looks like, ask someone to show you before you venture into the weeds and woods.
Special Dietary Needs
Camp Soles does our best to accommodate different dietary needs. If someone in your Family & Friends group has food allergies or requires a special diet such as gluten-free, vegetarian or vegan options, please let us know as soon as possible.
Nut Free for All Participants
The Camp Soles dining hall is nut free for the safety and security of all our campers, staff, and guests. We ask that all Family & Friends camp participants honor this request and refrain from bringing any snacks to camp that contain peanuts or tree nuts.
Packing List
Below is a list of suggested items to bring to Family & Friends camp. Please plan enough items to last the entirety of your Family & Friends Camp stay. Please label all items you bring with owner names to help make sure they get back to their owner at the end of camp.
Beach towels
Comb/brush
Day bag/book bag
Extra white t-shirts for tie-dying
Flashlight
Goggles
Hat
Insect repellent (non-aerosol)
Jacket/sweatshirt
Long pants
Pajamas
Pillow and pillowcase
Rain gear
Sandals (for shower and swimming)
Fishing Pole and Tackle (optional)
Bike and helmet (optional)
Shampoo
Shirts
Shorts
Soap
Socks
Sleeping bag
Sunscreen (waterproof)
Swimsuit
Toothbrush and toothpaste
Towels and washcloths
Underwear
Walking shoes
Water bottle (name clearly marked)
Water shoes
Fan (optional)
Extension Cord (optional)
Please DO NOT BRING:
Weapons of any kind, tobacco products, or fireworks. Alcohol should only be brought in limited quantities and should be secured the same as medications.
Questions
If you have any questions regarding your Family & Friends stay at Camp Soles, please do not hesitate to call us at 412-213-5321 and we will be happy to assist you.