Rocketry Program
In our 2023 summer camp season we introduced a rocketry program into camp.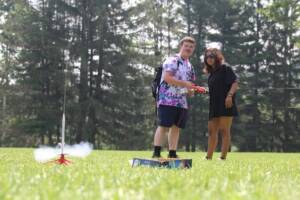 Campers got the opportunity to sign up for our rocketry program, getting the chance to build and shoot off a rocket.
We offered this program to kids of all ages. Our counselors led them through the process of how to build their rocket and then the group got to take their rockets up to Fletcher Field and see how high they could launch them.
This program is a fun, engaging, educational experience for kids to take part in that our campers had so much fun with and we are excited to say that we are bringing back the rocketry program for 2024.
The rocketry program was so popular in 2023 that we decided to add an extra day to the schedule. In 2023 rocketry was only offered a week with limited spots so this year rocketry will run twice a week to double the number of campers that can participate.